If you have been online for as long as I have, you may have created a Google Apps for Your Domain account, which was released late in 2006. Paid accounts were released in 2007. You also may have created a gmail account when in 2004 when it was only available via an invitation link, or later when it was fully released to the public. Why is the date you created these accounts important? Because Google will use the date of creation as a way to recover an account that you cannot access.
Ways to find the creation date for Google Apps
The easiest way is to log into Gmail and search for the "Google Apps: sign-up confirmation and next steps." If you cannot find the email, you can try logging into the backup recovery email address and search on "Someone added you as their recovery email." This should help with the date. Make note of it!
Another way is to log into your account via Gmail.com. Click on the 9 dots in the upper right and click on the "Account" icon. Go to "Data and Privacy," then scroll down to "Download or delete your data," and click on "make a copy of your data to back it up." This brings you to the "Google Takeout" menu. To just get the date of creation, deselect all, then check the box beside "Google Account, Data about registration and account activity." Scroll down and click "Next Step," and pick the easiest solution, and "Send download link via email" and "Export Once." Click the blue "Create Export" button. Look in your email, click the link, and the top will tell you when you first created your account.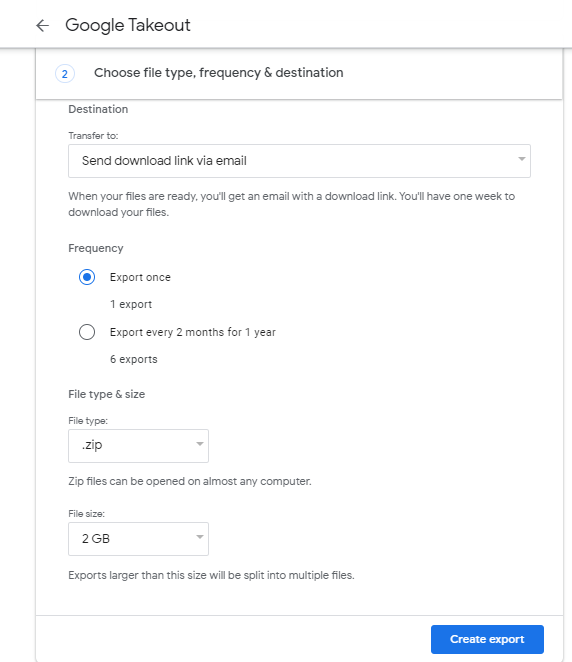 3. Log into your email via gmail.com, look at your POP settings. This is probably not the best method, if you were using IMAP previously and decided to enable POP to actually download your emails to save them.
How to find out creation date for a gmail email address
The only way to really find out the date you created a gmail address is to look in your recovery email for the email, "Someone added you as their recovery email." Note the exact date. You can also login via gmail and see when pop was first enabled, but that is not reliable as I have an email I know was created on 1/8/2011, yet I didn't enable pop until 8/11/2011.
The best way to know when you created a Google Apps, G-Suite, or Google Workspace email is to keep a spreadsheet, or notebook and note the date when you create the account. If you are an agency and create gmail emails for each client, make note of when I create each gmail account.