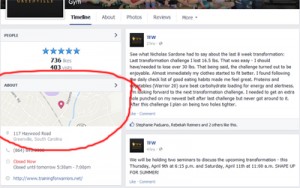 This is an easy way to fix your Bing Map that displays in Facebook.
1. Hover above the right-pointing arrow and click the pencil icon to edit the section.
2. Scroll down to the address block, hover over it and click Edit.
3. For address, click on the drop down for "no street address."
4. Click the 'x' to remove the state.
5. Delete the Zip Code.
6. Click "Save Changes"
7. View the page and the address and map should not be displaying, but it will show
Add street address
City State Zip
Click on the link showing above on your Facebook Page
8. Enter your correct address again.
9. Click the box at the bottom of the map if you want it to display.
10. Click "Save Changes."
Your map should now show the correct location and match your address!
Please share if you found this helpful.